Black Mirror (2020-2021)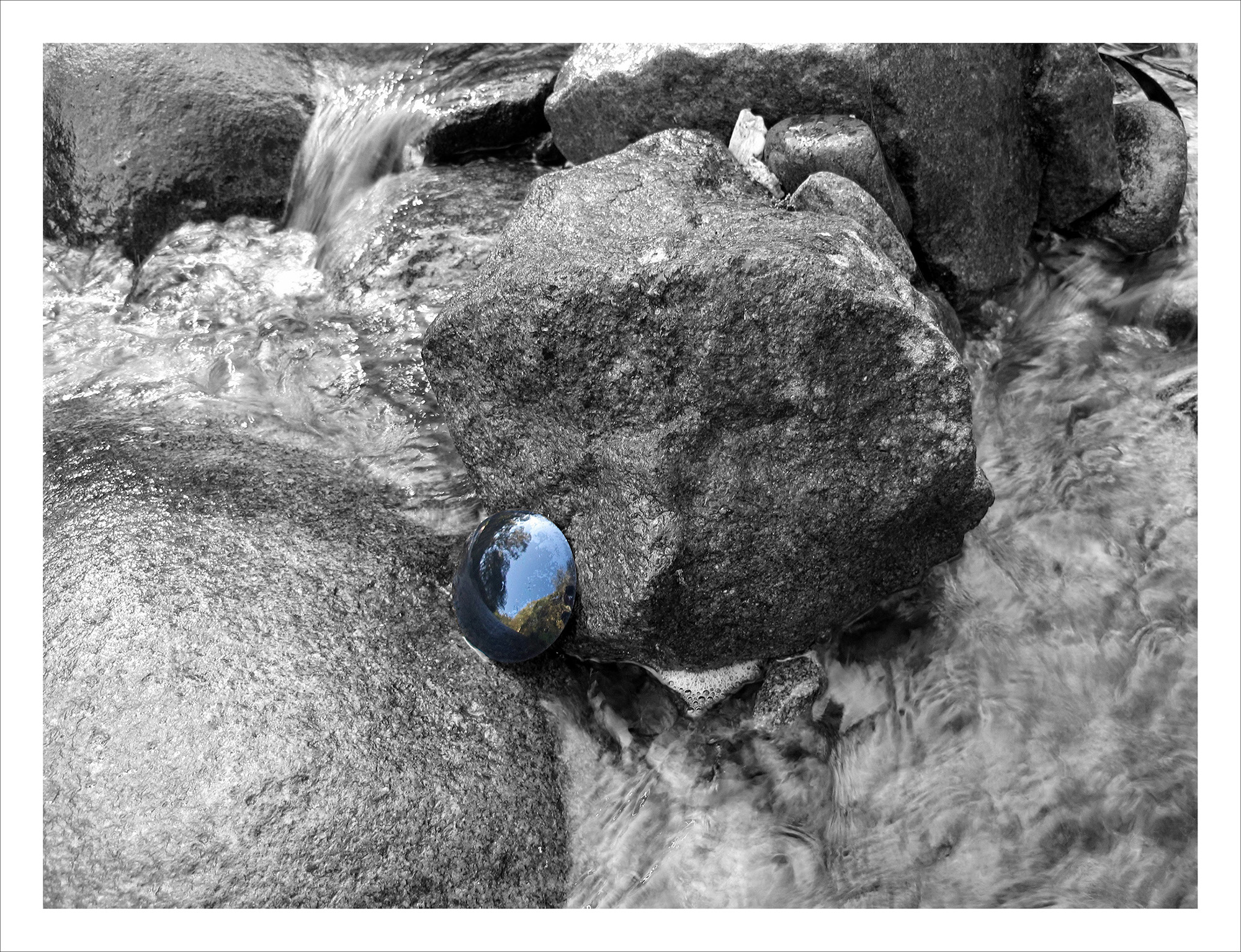 I'm interested in landscape as an experience of multiple encounters. I am currently experimenting with a Black Mirror, a small convex dark grey mirror used by artists and tourists in the 18th century to view the landscape and condense the view into a manageable composition and tonal range. Images such as these were described as being both absent and present and as Thomas West remarked in 1778, a black mirror could 'admit a field large enough for the eye to take in at one sweep'. I'm taking it with me into the landscape where I take photograph of it in situ. By standing with one's back to the landscape and facing the mirror the viewer sees a miniaturised, distilled and edited experience of landscape where past and present are experienced simultaneously.
During a residency I undertook at
Bogong Centre for Sound Culture
in March 2020. I used a Black Mirror, to view the landscape around Lake Guy and created
Look Both Ways
along with several other photographic works. In the artist book,
Through a Black Mirror
, I played with the concept of mirroring by manipulating the images to create opposites and reflections and through the length of the book's format, I repeated the walk around Lake Guy.
I am currently undertaking a commission for the
LaTrobe Regional Gallery
, Morwell, which involves walking in 4 areas of remnant vegetation of the LaTrobe Valley with a Black Mirror. I am interested in the ways the landscape may have looked prior to European settlement and clearing of native vegetation, which falls into 4 broad categories within State and National Parks: riparian flats (Morwell River Falls Reserve), dry foothills (Moondarra State Park), plains woodland (Morwell National Park) and damp forest (Tarra-Bulga National Park).
Even though today we are used to the idea of an image framed by a ubiquitous hand-held device, the original purpose of the Black Mirror – to create a live experience grasped in the process of being experienced – continues to be relevant in generating an experience of wonder.
Lesley Duxbury
Lesley Duxbury was born in the UK and arrived in Australia in 1983. Her interests are in the atmospherics of place and phenomenological experiences of walking in remote regions of the world such as Baffin Island, Tierra del Fuego and Iceland, are the impetus for her investigations.
Lesley has exhibited nationally and internationally for over 30 years including 2019:
Echo
:
a survey
, Gippsland Art Gallery, Sale. 2017:
Phantasm
, Herhusid, Siglufjordur, Iceland. 2016:
Breathing Hemispheres
Blindside, Melbourne. 2015:
27° South to 19° North: Contemporary Australian
Photography,
The Museum of the City of Cuernavaca, Mexico. Her work is held in all major public collections in Australia. She has undertaken artist residencies in Iceland (2012, 2015 and 2017), Paris, Australia Council studio (1996), Fremantle Arts Centre (2017) and Bogong Centre for Sound Culture (2013 and 2020).
In 2011 she was awarded an Australia Council for the Arts New Work Grant. She is currently undertaking a commission for LaTrobe Art Gallery, Morwell, Victoria. Lesley is an emeritus professor in the School of Art, RMIT University.