AEGIS Symposium
For the Birds

Online 26 April 2023


Speakers: Emeritus Professor Linda Williams (Chair) with

Professor Mike Collier, Dr Catherine Clover and Kate Gorringe-Smith.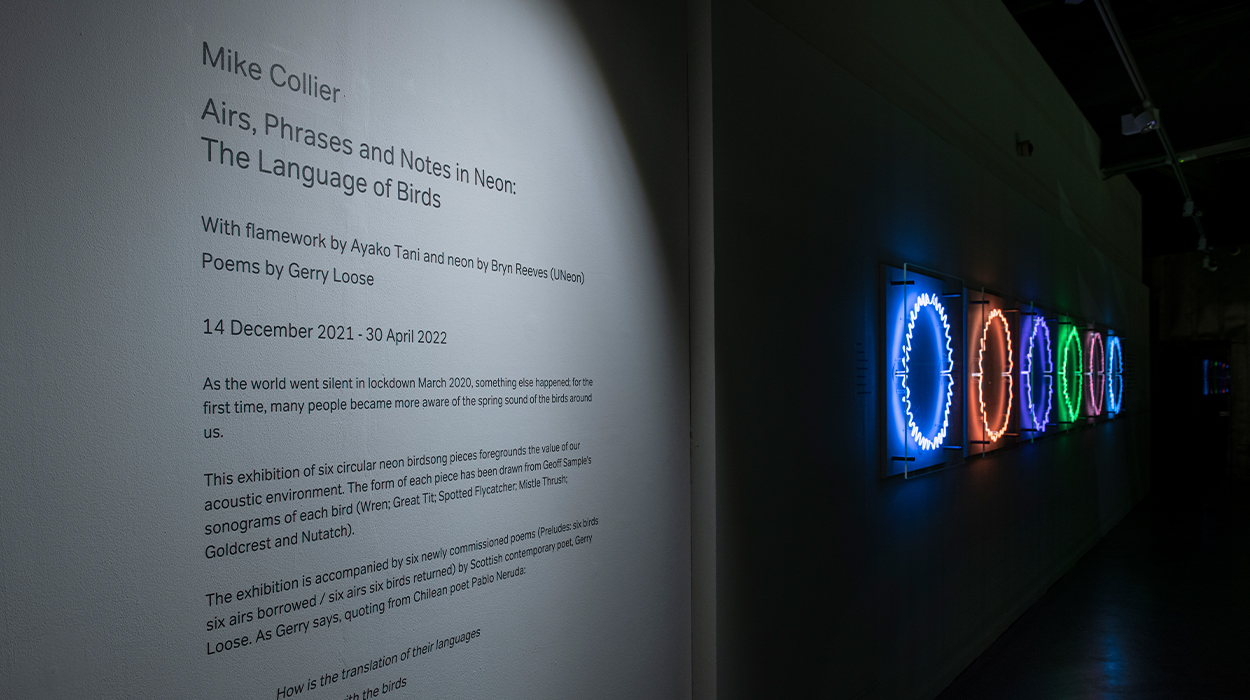 Mike Collier. Exhibition view of 'Airs, Phrases and Notes in Neon: The Language of Birds'. Flamework by Ayako Tani and neon by Bryn Reeves (UNeon), Poems by Gerry Loose, 14 December 2021 – 13th March 2022.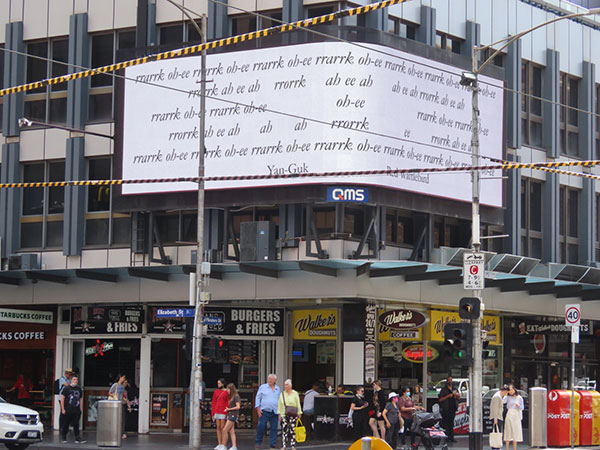 Cath Clover,
Fivex Art Prize.
Two digital billboards, corner Flinders and Elizabeth Streets, central Melbourn 14 December 2020 to 31 January 2021 (First Prize).
About For the Birds

This AEGIS seminar focused on how three artists in Europe and Australia interpret the life-worlds of the birds that are amongst the few non-domesticated species we encounter in urban ecosystems.

Presenters Biographies
Mike Collier (England) -

Professor Mike Collier is a lecturer, writer, curator and artist. He studied Fine Art at Goldsmiths College before being appointed Gallery Manager at the ICA in London. He subsequently became a freelance curator working extensively in the UK and abroad. In 1985 he moved to Newcastle to run the Arts Development Strategy at the Laing Art Gallery, where he initiated the Tyne International Exhibition of Contemporary Art. For the last 18 years he has worked in education and is currently Professor of Visual Art at the University of Sunderland.
More at:
http://mikecollier.co.uk/

Catherine Clover (England/Australia) -

Dr Catherine Clover has developed a multidisciplinary practice addressing communication through voice, language and the interplay between hearing/listening, seeing/reading. Using field recording digital imaging and the spoken & written word she explores an expanded approach to language within and across species through a framework of everyday experience. The artworks are social in nature and frequently involve collaboration and participation with other artists and with audiences. They take several forms including texts/scores, sound works, installations, external public artworks, radio, live performance, readings and artists' books.
More at:
https://ciclover.com/


Kate Gorringe-Smith (Australia) -

Melbourne-based contemporary printmaker Kate Gorringe-Smith works often refer to migratory shorebirds and the environmental connections that link us individually and globally. In 2017 she launched
The Overwintering Project: Mapping Sanctuary
, a long-term environmental art project to raise awareness for endangered migratory shorebirds and their habitat. To date, the Project has involved 30 exhibitions with over 300 Australian artists and has raised $42,000 for shorebird conservation. Kate has also presented conference papers on engaging audiences with migratory shorebird and wetland conservation and was a keynote speaker at the first East Asian-Australasian Flyway Shorebird Science Meeting.
More at:
http://www.kategorringesmith.com.au/